Heated pool
wellness for mind and body
Relaxing massages
so you can forget the stress
Take a break
surrounded by bubbles
Let youself be pampered
among the sounds and fragrances of nature
Your Day Spa in Primiero Trentino
in the Dolomites
Treat yourself to your moment of well-being
Your holiday of wellsness
Give yourself a moment just for you, free your mind and be transported in a world of wellness.. Soak in the smells of the forest and the sounds of nature. The perfect mix of inner peace and harmony of the senses.
A warm hug to regain serenity. Tension and stress will be long gone.
Your Day Spa in Primiero Trentino, surrounded by the most beautiful Dolomites.
Your Day Spa in Trentino
a short break for your body and mind
Leave all your worries behind and take a moment for yourself at our Day Spa in Trentino.
The calming atmosphere, the warmth, the soft lighting and the carefully selected music will reset your mood and your thoughts. While sipping a tisane that smells of alpine flowers, give into the warm hug of our swing chairs. Experience all the benefits of our Turkish bath and sauna, perhaps alternated by a caress of ice to wake up the senses.
Stay and find your inner peace, here at your Day Spa in Primiero, Trentino Dolomiti.
Your Day Spa in Trentino Dolomiti
Pampering yourself all day will be your only thought.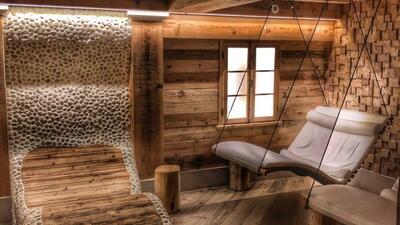 A cuddle among
the sounds and scents of the forest
Aufguss
a warm hug
Day Spa offers and daily access
Give yourself a break and let your worries go. Take a deep breath and enjoy this moment all for YOU.
We are here to answer any of your questions!
You'll find us right in the middle of it all. Pedestrian zone starts outside our front doors, in the beautiful town of Fiera di Primiero, in the Dolomites of Trentino a quiet but lively village.
Via Montegrappa 2 - 38054 Fiera di Primiero (TN)
Tel: 0439 64241
Cell: 349 47 52 674
WhatsApp: 349 47 52 674