Five really good reasons to choose our Hotel
To a "classic" vacation you prefer a vacation where in the morning you can forget about the alarm, where you just need to open the window to see this enchanting landscape... where you can sip a good coffee or some fresh milk, maybe served with slice of delicious apple pie just baked, even if the "normal time for breakfast is over".
Choose us only if you are looking for a "slow" vacation, that sends you back home with lungs full of Trentino's pure oxygen and less toxins, a more flexible and toned body, a calmer and free mind (like that of a modern zen monk ;)).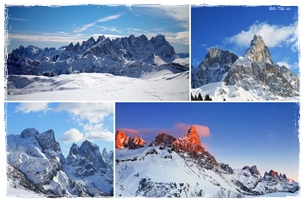 You like Trentino, the natural reserves, the snowcapped peaks, squirrels and moose, but you are not a skiing addicted. The Mirabello Hotel is in Fiera di Primiero (730m of altitude), in the heart of the Dolomites, two steps away from S. Martino di Castrozza and Passo Rolle. Surrounded by nature, a few kilometers away from two of the most important natural reserves of Italy: the Natural reserve Paneveggio Pale di San Martino (famous for its resonating firs, used to make the soundboard of stringed instrumetns) and the Bellunesi Dolomites park.
Isolated? Not at all!
Here, at Fiera di Primiero (Trentino), thare are no malls, fast-food, 20 floors buildings, cars and motorcylces darting through the streets until 4 am, nor queues of people looking for a sit in a restaurant. Our typical mountain village, placed at the junction of Cismon and Canali rivers, has gracious shops with typical products (like our famous Grappa), shops of antique craftsmen, characteristic meeting places, wooden bridges and balcony often full of colored and scented flowers.

And if you like skiing? You can do it every day stepping in a free shuttle that stops in front of the hotel and takes you to one of the most beautiful ski tracks of the area. We do not advise our hotel only to those who want just ski in his vacation (because, as you know now, the hotel is not on the tracks) instead of visiting:
Cycle paths - even in winter - (10 mt)
Boutiques and typical restaurants (15 mt)
Inns where to try the Trentino's Grappa (20 mt)
Sport Centre (25 mt)
Pure water springs (30 mt)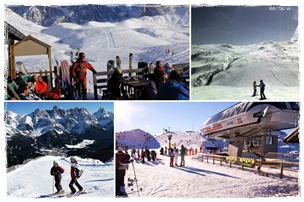 Instead of fast food you prefer a "slow food" cuisine. I think you should postpone your diet to "next Monday". Here it wont be possible not to ask the bis at the restaurant or resist to a soft and delicious cake that our Chef Tiziano bake every day for breakfast or snack.
Every day for you: 5 cereals home-made bread, typical trentino's meals with local and fresh ingredients (sometimes, as for mushrooms, just picked up), natural jams, cold cuts and cheese from Trentino, various muesli, lots of teas and brews.
And what do you think if at the end of an excursion on the Dolomites paths or a day outdoor, you could find in the Hotel fresh home-made pastry and chocolate fountain hot and creamy waiting for you? And if you have particular demands, no problem. We offer a lot of menus:
Typical, if you want to taste our Trentino's specialties.
Classic, if you prefer a "national" cuisine.
Light, if you are thinking of a natural excursion.
Dietary, if you don't want to change size to your clothes:)
4. Choose us only if you...
Are looking for an hotel with Wellness centre, huge heated pool, scented turkish bath, Finnish sauna, nebulized tropical shower, hot tub with blu mosaic and massage centre. Choose us only if...you can reach it from the lift.
You don't like small rooms, and prefer larger rooms, comforting but not luxury. In our Wellness Hotel we decided not to create better or worse rooms, but just more suitable to your demands. Have you ever seen an hotel room of 30 or 40 square meters, with wooden floors or antialergenic moquette and natural wood furniture, panoramic veranda and hot tub?
Maybe yes, but surely not in a 4 stars hotel and with accessible prices. To the luxury we prefer comfort, space and our traditional wood beams. Recapping... here:
You can stay under the sheets until late, not risking of missing breakfast.
You can go to the wellness centre with waterfalls, pool and hot tub, always and for free.
You can go excursioning between the woods, deers, lakes, peaks and rivers in any moment.
You can a mouth-watering time with our Tiziano slow food cuisine (the Chef that everybody envy us).
You can have a snack with home made sweets and typical products of our valley.
You can read a good book surrounded by the natural wonders of Fiera di Primiero.
Our clients love our unique way to plan their vacation and that allowed us to be one of the most voted and appreciated hotel in Trentino (have a look, for example, at our Facebook page).